Homa Hotel in Bandar Abbas
Homa Hotels
is a chain of five-star hotels with branches in some of the most important industrial and touristic cities in Iran. The most famous one is
Homa Hotel in Tehran
. With 173 rooms and several junior and royal suites, the hotel welcomes and hosts thousands of tourists every year.
Homa Hotel in Shiraz
is a five-star hotel with 232 rooms, overlooking the breath-taking park of Azadi.
Homa Hotel 1 in Mashahd
is one the oldest hotels with 40 years of experience in offering service to customers.
Homa Hotel 2 in Mashhad
is more modern and closer to the massive shopping centers of the city.
Homa Hotel in Bandar Abbas
is one of the largest and oldest of
Bandar Abbas hotels
. Located within a short distance from the ever-blue waters of the Persian Gulf, the hotel welcomes you with a total of 176 rooms and magnificent suites, coupled with a spectacular view and modern facilities, making it a serene accommodation for tourists. Homa, the most luxurious of Iranian hotels in Bandar Abbas, boasts many international hospitality standards and offers conference halls, restaurants, gyms together with the beautifully pleasant landscape to its eminent guests. If you have decided to stay in Homa Hotel, you can do the booking online via the official booking websites. Homa is one of the best hotels in Bandar Abbas but it isn't the only great one in the city. Once in Iran, finding an accommodation is almost trouble-free. Every major city showcases a great variety of accommodation. Among the cities in the far south of Iran,
Bandar Abbas
is one of the most visited ones by the foreigners due to its pivotal status as the most important industrial port in Iran. A miscellany of cheap and fancy accommodation in Bandar Abbas welcomes international merchants and tourists. These great places of lodging make the question of where to stay in Bandar Abbas a straightforward one. In Bandar Abbas you can find luxury hotels with modern facilities and amenities (Homa Hotel which is mentioned above, is the most luxurious accommodation in the city). Bandar Abbas' cheap hotels are the best options for the people who consider the cost of five-star hotels exorbitant and aren't satisfied with the services of B&Bs and guesthouses. Sefid Apartment Hotel and Iran Hotel are two of the most recommended budget hotels in Bandar Abbas. In contrast to fancy hotel seekers, backpackers love the cozy atmosphere of hostels. While cheap hostels are a new phenomenon in Iran, visitors to the south have a lot of options among Bandar Abbas' hostels. Finding a cheap hostel in Bandar Abbas with a fair bargain is not only practical but desirable. Tourists with a budget economy in Iran either go for them or opt for guesthouses in Bandar Abbas. As disconcerting as it may sound to economy travelers, the paucity of youth hostels in Bandar Abbas is not a source of concern for many tourists. The plentiful options available to travelers make up for this lack. Another popular Iranian accommodation is guesthouses. There are numerous guesthouses in Bandar Abbas with very reasonable prices. Booking a hotel in Bandar Abbas, is quite simple provided that it does not coincide with the people-packed religious and national holidays. All you need to do is to walk to the reception of the hotel, request a room, strike a deal and land on your bed. However, most of Bandar Abbas' hotels require online booking. It is a fairly easy process; you should just fill a form on the hotel's (or any other affiliated) website.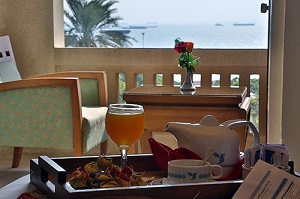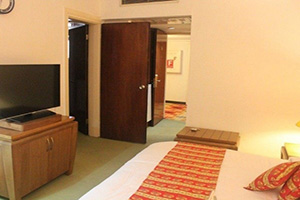 Homa Hotel's Amenities
Homa Hotel in Bandar Abbas offers a diversity of services. The rooms in the hotel are spacious, have decent lighting and air conditioning with a lovely design. Connecting to internet with strong Wi-Fi adds to the comfort of the guests. Other amenities of the hotel include delicious seafood cooked in southern-style, great breakfast and free parking space. The shops on the ground floor and a very nice swimming pool, turn the hotel into a favorite residential spot for tourists. The staff are very friendly and helpful and they speak good English.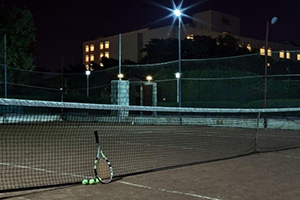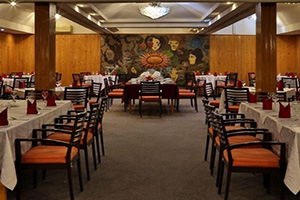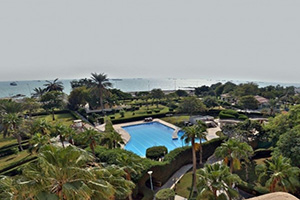 Homa Hotel's Details
Homa hotel in Bandar Abbas enjoys an international class and fame. The details about this hotel are as follows:
1.
Homa Hotel address
and location: Meraj St, Pasdaran Blvd, Bandar Abbas, Iran. It's a 15-minute ride from Bandar Abbas airport, and the drive is replete with scenic views of the Persian Gulf.
2.
Homa Hotel prices
are quite within reasonable ranges considering the five-star quality. Their range is more or less between 60 to 200 Euros.
3.
Hotel Homa's photos
and further information regarding the types of rooms and suites are available at
http://homahotels.ir
4.
Homa Hotel's reservation
is made online through the hotel's reservation form.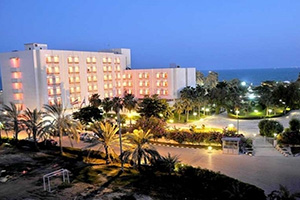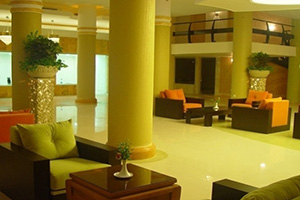 Bandar Abbas Tours
In spite of being one of the most underrated tourist destinations in the catalogue of
Iran tours
, Bandar Abbas boasts a diversity of scenic views that a tourist should never miss.
Bandar Abbas tours
can roughly be classified into three categories: Bandar Abbas attractions tour, Qeshm and Hengam adventure tour and Minab's Thursdays' market tour.
Qeshm
Located within 20 kilometers of Bandar Abbas and 18 kilometers of Hormuz Island, with scorching heat and high humidity, the Island of Qeshm welcomes adventurous visitors. The island is famous for its spectacular palm trees, its grand valleys and canyons. With 220 bird species and 35 species of reptiles, the island is also a must-see for birdwatchers and other nature lovers.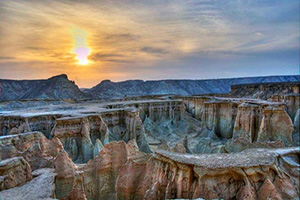 Hormuz
By taking a ferry from Bandar Abbas, you can visit the beautiful Hormuz Island. Most visitors to the island prefer to take a promenade along the beaches soaked in orange sunset. One of the other highlights of the island is the Museum and Gallery of Dr. Ahmad Nadalian exhibiting the art of Dr. Nadalian coupled with local women's paintings.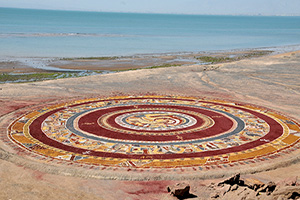 Minab
Minab is an hour and half ride by taxi from Bandar Abbas and it shouldn't cost you more than 38 USD. The authentic and colorful Thursday Market of Minab is worth a day visit. Tourists get mesmerized by the diversity of handicrafts on sale by the locals. We have three packages in our Bandar Abbas tours. These include Bandar Abbas Sightseeing Tours and two fabulous tours in Qeshm, less than forty kilometers south of Bandar Abbas.
Bandar Abbas Tourist Attractions
Iran's attraction is not restricted to its history and culture, and a bunch of cities like Bandar Abbas offer stunning natural beauties, coupled with exotic and spicy cuisine. Bandar Abbas offers some unique tourist attraction hubs with genuine flavor and a veritable magnificence. The unique nature of Bandar Abbas and the islands around it transform this industrial port to an idyllic haven for tourists, thus contributing immensely to Bandar Abbas' tourism. Although landmarks are a rarity in Bandar Abbas, local products, fresh seafood in restaurants with an ambient aura and spectacular nature make the city an exotic wonderland for travelers. The city is replete with seafood restaurants, and the most celebrated food to savor is Ghalyeh Maygoo. This heavenly stew is a mix of tamarind, prawns, chili, coriander leaves and garlic. Another dish to try is Havari made from rice and coriander. Still, Bear in mind that you treat yourself to a truly exotic flavor by dipping into the spicy cuisine of Bandar Abbas. Recreational complexes add another angle to the city's splendor. You can have a retreat in the spectacular Genoo Thermal spring and Tourist Compound. It is located 35 km from the centre. Men and women have separate pools, and you can have a relaxing solitude in the pavilions around the spring.
Bandar Abbas tourist attractions
also include the spectacular red island of Hormuz.
Hormuz Island
is a wonderful work of nature with a salt dome which is visible in low tide. The island is located within 8 km of Bandar Abbas and is best to visit in the morning as the scorching heat can often make it unbearable at noon.
Dowlat Park
is a quiet and clean public park around the beach and offers spectacular views of the sea at sunset. It is the favorite weekend spot for the families in Bandar Abbas. Many restaurants and tea stalls around the park offer their services to the visitors. The last highlight of the city we will introduce here is truly an oddity! Hindu Temple in Bandar Abbas is one of the few religious monuments attributed to Hinduism in Iran. Constructed in 1892 under the auspicious of a wealthy Indian merchant, the temple functioned as a praying home to Hindu inhabitants in Bandar Abbas.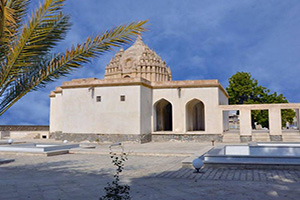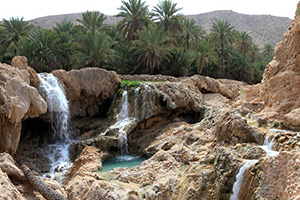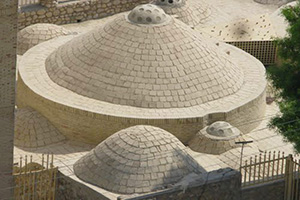 More:
- Homa Hotel in Bandar Abbas Prices
- Homa Hotel in Bandar Abbas Payment Details
- Homa Hotel in Bandar Abbas Reservation
- Homa Hotel in Bandar Abbas Phone Number
- Homa Hotel in Bandar Abbas Address
12/16/2017 6:37:22 PM