Homa Hotel 2 in Mashhad
Tehran and
Mashhad
claim the largest shares of Iran's hospitality industry. Some of the most sumptuous of
Iran hotels
are in Mashhad, one of the centers of the Shiism in the Muslim world. No matter how many hotels are founded in Mashhad, the city's growing number of tourists demand more quality accommodation. Given the stable and prosperous tourism in Mashhad, all the major competitors in Iran's flourishing hospitality industry are active in the city. One such prime contender is Homa Hotels Group.
Homa Hotels
is one of the oldest hotel chains in Iran. Previously a property of Iranian National Airlines, the group is now run by Iran's Social Security Organization. The group has branches in Shiraz, Tehran, Bandar Abbas and two superb five-star hotels in Mashhad.
Homa Hotel in Tehran
is the most famous of all Homa hotels. Previously known as Arya-Sheraton Hotel, Homa Hotel in Tehran is a delightful place to stay with its grand classy restaurant and lovely swimming pool. Other branches are equally fascinating.
Homa Hotel in Bandar Abbas
is one of the most excellent five-star hotels in the south of Iran.
Homa Hotel in Shiraz
boasts a unique architecture and offers supreme service and facilities such as tennis courts and sauna. And finally, we have the branches in Mashhad. Yes! Not one but two Homa Hotels in Mashhad! Among the grand hotels founded before the revolution of 1979,
Homa Hotel 1 in Mashhad
is one of the very best. The hotel holds 135 rooms and a couple of luxurious royal suites in its massive six floors. Homa Hotel in Mashhad became so popular that Homa managers decided to establish a second branch in Mashhad.
Homa Hotel 2 in Mashhad
opened in 1997 to great acclaim. Homa 2 has 207 rooms, a magnificent restaurant and a swimming pool. The easiest way to lodge in Homa Hotels is to refer to the official Iranian tourism websites and do the booking online. Sometimes especially during the religious red days, online services are the only way of finding accommodation in Mashhad. Most of
Mashhad's hotels
, even the homely types, provide online booking services. As with luxury hotels, Mashhad's cheap hotels have great diversity regarding the price and location. The huge crowds of visitors to Mashhad are comprised of all classes of the society and that is why there is a great host of hostels and guesthouses in the city to cater to those with not so deep pockets! These cheap hostels save the day during the busy religious holidays in Mashhad. Cheap hostels are a new phenomenon in Iran. But they are thriving very quickly and hostels are beginning to show up in every corner, adding a different color to Iran's accommodation facilities. Mashhad's hostels house most of the back packers and budget travelers. But cheap accommodation in Mashhad also includes superb guesthouses. There are two types of guesthouse in Mashhad: traditional and modern. These guesthouses are the nearest things to modern accommodation known as "youth hostels" in Mashhad. With these exciting options for quality accommodation, you can cross "where to stay in Mashhad" from your list of things to consider. Five-star hotels like Homa are great threats to hostels and cheap hotels in the off-season, as they offer incredible discounts to their guests.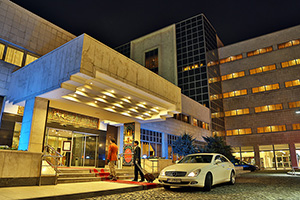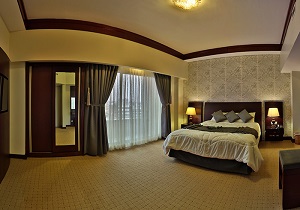 Homa Hotel Amenities
Homa hotels have been treasured for their first-class amenities. Most of these facilities are common among them all. These include ample parking space for the guests and free WI-FI and breakfast. All rooms are equipped with air conditioning, classy furniture and superb room service. On top of all great features mentioned above Homa Hotel 2 in Mashhad has a fabulous swimming pool and top-notch restaurants. 24-hour transfer is available for the guests and there is a booth from which you can book travel tours. Considering all these excellent features and facilities, it is no surprise that Homa Hotel 2 is among the most popular five-star hotels in Mashhad.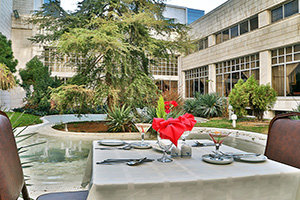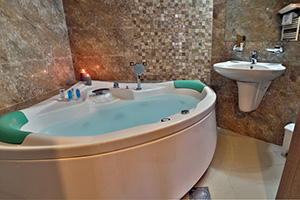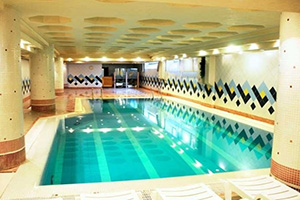 Homa Hotel Details
Generations of Iranians have spent many happy vacations in Homa Hotels and enjoyed their classy atmosphere and superb service. Due to their high quality and popularity, Homa Hotels are very busy all through the year specially during the peak season in early spring and summer.
Homa Hotel's prices
are predictably high during tourist season but costs drop dramatically in the off-season. When your destination is Mashhad, you should add the religious holidays to the mentioned peak season. Homa Hotel 2 in Mashhad is great on so many levels. You can check out the website
http://homahotels.ir
to see Homa Hotel's photos plus further information about its facilities. As previously mentioned, accommodation is cheaper in Mashhad during the off-season and Homa Hotels's prices follow the same formula. Beside all the features mentioned above, its location is ideal for the people who fancy shopping. Homa Hotel 2 lies far from the mad rush of the city and near the grand shopping malls of Mashhad. If you have decided to stay in Homa Hotel 2, you can make reservations online. You can easily find Hotel Homa's telephone number, address and location on the internet. But for your convenience, below is
Homa Hotel Address
:
Khayyam St, Janbaz Sq, Mashhad
Mashhad Tours
None of the packages in our
Iran tours
has the same appeal among Iranians as
Mashhad tours
. The reason for this is of course the religious centrality of Mashhad that attracts millions of Shia Muslims each year to its sacred ground. Despite the prominence of religious tours, they are not the only ones in Mashhad. Beside
Mashhad's day tours
that include visits to the major sightseeing spots of the city, there are many tours conducted around Mashhad.
Kang Village tours
and
Shirbad ski tours
are two of these fabulous packages. They are organized by great teams of operators and performed by pro
Iran tour guides
.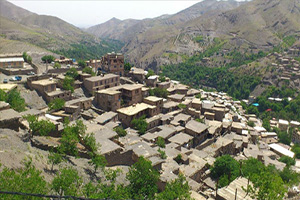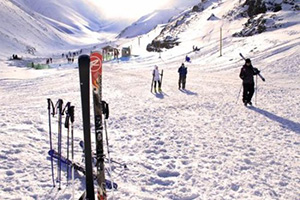 Mashhad Tourist Attractions
Iran's tourist attractions abound and are scattered all over its vast area. Isfahan and Yazd are the most visited cities in central Iran, Ramsar and Anzali are the tourist hubs of the north and the heart of tourism in the east is Mashhad. You just need to see a photo of
Imam Reza's Shrine
to understand the reasons behind the immense popularity of the city among Iranians. The golden dome of the shrine sparkles in the high noon of the city and hypnotizes countless flocks of doves flying over it. The interior of the shrine is equally mesmerizing. Embellished with the most supreme instances of the art of tileworks and calligraphy of the 16th century, the shrine is much more than a mere religious attraction. The expansive complex that contains the shrine is known as the largest mosque in the world (250 thousand m2). In addition to the golden dome which is undoubtedly the most prominent of
Mashhad's tourist attractions
, the complex includes a grand museum and a number of other historic mosques.
Goharshad Mosque
is the second most famous religious structure in the complex after Imam Reza's Shrine. Built in 1418, Goharshad mosque is a favorite of architecture students for its breathtaking muqarnas, minarets and high vaults. Next comes the
Tomb of Sheikh Bahai
, one of the greatest and most versatile Iranian masters of the old world. Having excelled in all branches of knowledge in his time, Sheikh Bahai has been a major figure in the history of Iranian thought. He contributed to Iranian philosophy, literature and (surprisingly!) architecture. The intricate design of Sheikh Lotfollah Mosque in Isfahan is his most imperishable tribute to the rich treasury of Iranian artistry. His burial site in the Holy Shrine of Imam Reza consisting of a simple carved tombstone, reflects the great man's utter disregard for the worldly gains. As you have already figured out, Mashhad's tourism is heavily dependent on religious tours. But the latter fact doesn't mean that Mashhad has nothing else to offer except for its glorious golden shrine. Two instances of such distinctive tourist attractions are Chali Darreh Entertainment Complex and Shirbad Ski Resort. Funfairs are a necessity in big cities and Mashhad's
Chali Darreh
has a wide array of facilities for every age group. From different types of amusement rides to a crazy Bungee Jumping site, the complex creates an atmosphere of pure fun for all the visitors.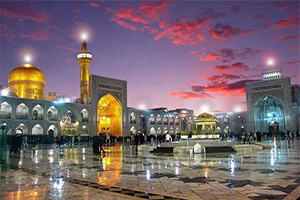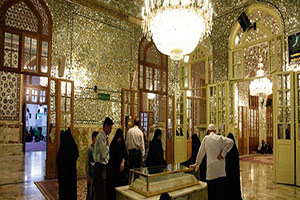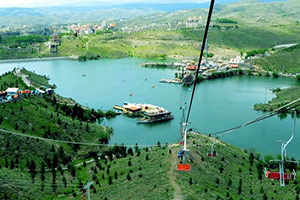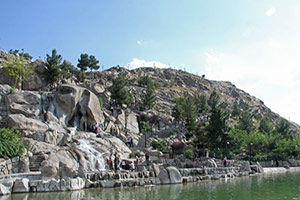 As unexpected as it seems, skiing is very popular among Iranians and you can hardly find an empty place in Iran's twenty-two ski resorts (another shocking revelation!) in the ski season. Most of these fabulous resorts are in the Western Iran. Deserts cover vast areas of Iran's east and south, but you shouldn't judge the mysterious east by its hot and dry outlook. Sixty-eight kilometers west of Mashhad, lies a mountain known as the roof of Khorasan. Mount Binalud is the highest peak in a mountain range of the same name that also holds the spectacular
Shirbad Ski Resort
. Equipped with great facilities such ski lifts and endowed with marvelous runs and powder, Shirbad Ski Resort is the favorite winter hang-out for the youths of Mashhad and Nishapur. Lucky for you, we have great packages for both of these great spots. You can find the details of these wonderful tours in the chart below:
| | | | | |
| --- | --- | --- | --- | --- |
| From | To | Distance (km) | Price | Including |
| Mashhad | Kang Village | 48 | 50 Euros | Transfer, Meals and English-Speaking Guide |
| Mashhad | Shirbad Ski Resort | 68 | 50 Euros | Transfer and English-Speaking Guide |
More:
- Homa Hotel 2 in Mashhad Prices
- Homa Hotel 2 in Mashhad Payment Details
- Homa Hotel 2 in Mashhad Reservation
- Homa Hotel 2 in Mashhad Phone Number
- Homa Hotel 2 in Mashhad Address
12/16/2017 6:35:17 PM