Homa Hotel 1 in Mashhad
Homa Hotels Group is the owner of a chain of luxury five-star hotels in four major cities of Iran, Tehran, Shiraz, Bandar Abbas, and
Mashhad
.
Homa Hotel in Tehran
is located in Valiasr Street, one the oldest and most beautiful streets of Tehran with great access to shopping centers, public parks, and historical tourist attractions. It is a fifteen-floor building with modern architecture and a great diversity of lovely rooms and suites.
Homa Hotel in Shiraz
, one of the ancient cities of Iran, presents its guests with a delightful view of surrounding mountains and gardens. The hotel is equipped with cozy rooms and suites, a great open-air restaurant and a luxurious restaurant on the ground floor. One of the finest branches of
Homa Hotels
lies in Bandar Abbas, an exotic port city on the southern coasts of Iran. A wonderful view of the Persian Gulf and easy access to the beautiful nearby islands like Kish and Qeshm are the advantages of staying at
Homa Hotel in Bandar Abbas
. You shouldn't miss the delicious local seafood served in the luxury outdoor restaurant of this hotel. The other two branches of Homa Hotels are in Mashhad. Homa Hotel 1 in Mashhad houses a considerable number of international and domestic pilgrims looking for a luxury accommodation. This hotel as the symbol of Mashhad's Tourism for more than 40 years, is among Iran's oldest accommodation centers. Easy access to Mashhad's shopping malls (a 10-minute drive) and the tourist attractions in and around the city has made it a proper choice among
Mashhad hotels
.
Homa Hotel 1 in Mashhad
with 135 luxurious rooms and royal suites provides delightful moments for its guests. The hotel has open-air and indoor restaurants, spacious coffee shops and other facilities like a gym, a tennis court, sauna and cycling tracks.
Homa Hotel 2 in Mashhad
is the newest branch of these chain hotels that is constructed because of the need for new top-ranked hotels in Mashhad as one of the popular tourist spots of Iran. The hotel is located far from the city center and due to its world-class amenities and high- quality services, is an ideal option for a relaxing stay. Homa Hotels Group has made the online booking services available for all its branches. Many of Iran's top-ranked hotels are located in Mashhad due to the great host of Iranian and international pilgrims. It is very easy to find a proper accommodation option If you have planned to have a trip and don't know where to stay in Mashhad. Just like the hotels in other major touristic cities in Iran, Mashhad hotels also provide online booking service. There is a variety of other great accommodation options in addition to Homa Hotels in Mashhad. Hosting millions of pilgrims and tourists annually needs a diversity of accommodation matching different types of travelers. If you are looking for a more economical stay in Mashhad, you can easily find proper cheap hotels. The variety of cheap hostels with acceptable prices and modest quality in Mashhad isn't comparable to any other city in Iran. Mashhad hostels are among the best cheap hostels in Iran. You also have other choices for a cheap accommodation in Mashhad. Guesthouses are fabulous options for tourists with limited budget during their visit to Mashhad. These guesthouses offer the same facilities of a youth hostel, and the great thing is that they abound in Mashhad.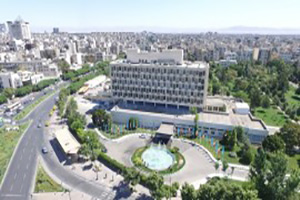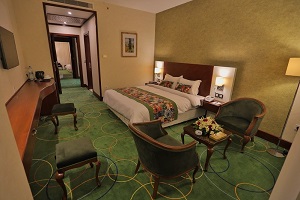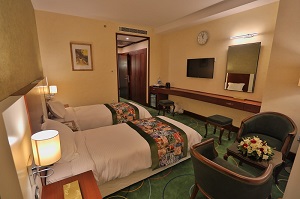 Homa Hotel Amenities
Homa Hotels are among the top-ranked five-star hotels in Iran and provide all the modern amenities needed for a luxury stay. You can connect to the high-speed wifi network in the lobby and all the rooms of Homa Hotel 1 in Mashhad. The hotel has an open-air parking space with the capacity of 200 cars. The breakfast is served in Chabok Coffee Shop in the hotel every day (7 AM-10 AM). You can also order your breakfast if you want to have it in your room. You can enjoy different kinds of local and international cuisine in Gole Sorkh Restaurant of the hotel (lunch time is 12PM-16PM and dinner time is 19PM-23PM). All the rooms are air-conditioned and furnished with high quality and modern furniture.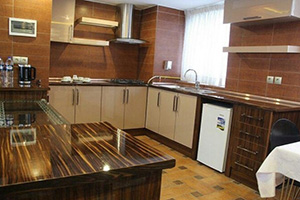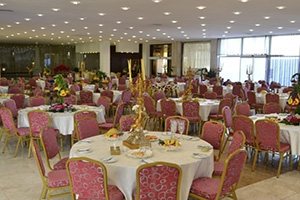 Homa Hotel's Details
Homa Hotel 1 is among the top-class hotels of Mashhad. You can find further information regarding the different parts of all the branches of Homa Hotels Group plus great photos of the rooms and suites on the website
http://homahotels.ir
.
Homa Hotels' price
depends on the season you wish to book a room. Reserving a fantastic luxury suite in Homa Hotel 1 in Mashhad is possible in low-season with unbelievable prices. If you wish to book a room in Homa Hotel 1 in Mashhad, you can use
Homa Hotel Reservation
page on the website and choose the dates of your stay and the type of the room you prefer.
Homa Hotel's address
and the location are also available on the provided link.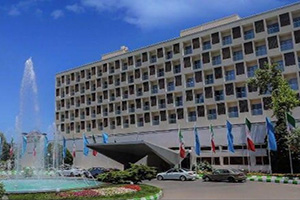 Mashhad Tours
Mashhad, a favorite destination for religious tourists and pilgrims, is a popular part of
Iran Tours
. The vast diversity of nonreligious historical and recreational attractions in and around the holy city has made
Mashhad Tours
a great choice for foreign tourists. By booking one of our tours, you have the chance of experiencing a memorable trip accompanied by our skilled and professional
Iran tour guides
. The most important thing you must consider in choosing Mashhad as your destination is booking a tour on days other than religious holidays. The reason we emphasize on this matter is that the overpopulation of the city during these special days prevent an enjoyable stay. In the itinerary of our
Mashhad day tours
, we offer visits to the major attractions of the city. Tours around Mashhad are also very popular. Kang village is one of the most scenic and ancient villages of Iran, located 47 km away from Mashhad. Beside the splendor of the historic village,
Kang Village tours
also include a hike in the magic of Khorasan's pristine nature. The village is famous for its unique architecture on the slope of a mountain. The other unique attraction in Khorasan Razavi province is a ski resort in a lofty mountain range. Shirbad Ski Resort in Binalud Mountains with an elevation of over 3000 meters, is a top-ranked resort for snow entertainments.
Shirbad Ski Tours
are an inseparable part of our tours in the winter and are attended by thousands of ski enthusiasts.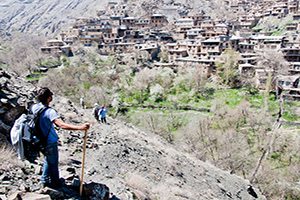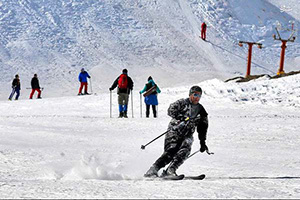 Mashhad Tourist Attractions
Mashhad, the capital city of Khorasan Razavi province, is Iran's second most populated city after Tehran. The city is known for the shrine of the Eighth Imam of the Shia Muslims, Imam Reza. Mashhad welcomes millions of domestic and international pilgrims each year. As a popular tourist destination, Mashhad has got some of Iran's most important tourist attractions. The Holy Shrine of Imam Reza is the first image that runs through the mind when talking about Mashhad's tourism industry.
Imam Reza Shrine
is part of a huge complex that includes other significant historical attractions. One of the most visited mosques in Iran is
Goharshad Mosque
. The mosque is considered a masterpiece of Iranian architecture due to its Islamic design and its artistic tilework. Built in the 15th century, the mosque functions as a prayer hall in the Imam Reza Shrine Complex.
Tomb of Sheikh Bahai
, a well-known scientist, and philosopher of Safavid era is another attraction inside the holy shrine. The tomb is made of stone and is covered with a glass box.
Mashhad's tourist attractions
aren't just limited to these religious monuments.
Chali Darrah
, an entertainment center located 35 km away from Mashhad, is one the most popular attractions around Mashhad. Boating, fishing and bungee jumping are the best-loved activities you can do during your visit to Chali darreh.
Shirbad Ski Resort
is a prominent ski resort in Iran and the only ski resort in the east of the country. It is an hour and a half drive from Mashhad to Shirbad Ski Resort. Shirbad is an ideal choice for snow entertainments if you have planned a trip to Mashhad in winter. This resort is equipped with ski lifts, fantastic runs, and many restaurants, guarantying an enjoyable vacation.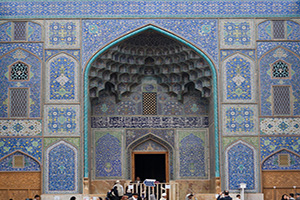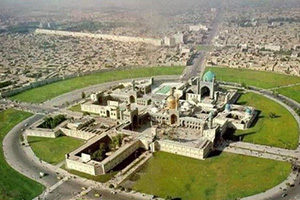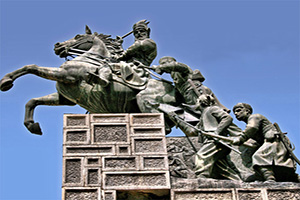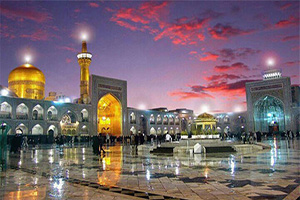 More:
- Homa Hotel 1 in Mashhad Prices
- Homa Hotel 1 in Mashhad Payment Details
- Homa Hotel 1 in Mashhad Reservation
- Homa Hotel 1 in Mashhad Phone Number
- Homa Hotel 1 in Mashhad Address
12/16/2017 6:36:28 PM