Homa Hotels are a chain of 5 star hotels in Iran. Their fame as the most luxurious hotels in Iran has made Homa Hotels Group one of the most successful hospitality groups in the realm of tourism in Iran. Now, this introduction being written in March 2017, there are five Homa Hotels in Iran. There is Homa Hotel in Tehran, Homa Hotel in Shiraz, Homa Hotel in Bandar Abbas, Homa Hotel in Mashhad 1, and Homa Hotel in Mashhad 2. The group has also started the construction work of Homa Hotel in Isfahan which is the most touristic city in Iran. All the existing Iran Homa Hotels, except for Homa Hotel in Mashhad 2, were built before Iran's Islamic Revolution in 1979, but they have all been renovated in a style that meets the modern taste. The most famous of our hotels is Homa Hotel in the country's capital which is in fact the former Sheraton Hotel in Tehran. Further information regarding Homa Hotels rooms and prices and Homa Hotels contacts is available through the provided links.
Book a Room at Home Hotel in Tehran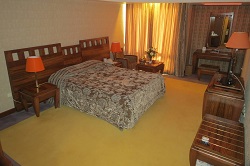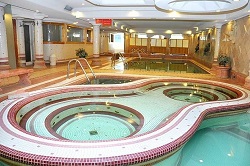 Homa Hotel in Tehran
Homa Hotel in Tehran
is a
fifteen-story tower
whose
northern rooms' windows
all open to the
beautiful peaks of Alborz Mountain Range
. As far as the
location
of our
hotel in Tehran
is concerned, although we are located
to north of central neighborhoods
, we are very
close to Valiasr Street
. And Valiasr street,
connecting the north of Iran's capital to its south
, and
teeming with frequent public transportation buses
, is
not only the longest street
in the
Middle East
, but also
the most beautiful
. There is a very
spacious and chic lobby
on the ground floor of the hotel, there are
several halls for conferences and celebrations
, there are
recreation and health facilities
including an
indoor swimming pool
,
sauna
,
Jacuzzi
,
lawn tennis, and bodybuilding equipment
. There is a
coffee shop and three restaurants
in the building one of which
serves food 24/7
.
Breakfast
is served
buffet style
and there is
free and unlimited access to Wi-Fi
internet in the
whole building
. As far as the
rooms
are concerned
…
Read About All the Facilities and Services at Homa Hotel in Tehran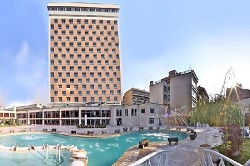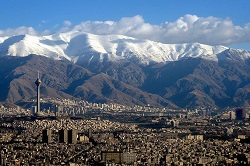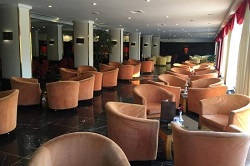 More
Read About Payment Details at Our Hotels in Iran
Contact Our Hotels in Iran
Make a Reservation at Our Hotel in Tehran
Read About the Addresses and Directions to Our Hotels in Iran
Our Rates Are Too High for Your Budget? Book a Budget Hotel in Tehran