Hotel management is a hugely profitable industry. The growing popularity of tourism and its immediate outcome which is the deluge of international tourists has encouraged wealthy entrepreneurs to invest profusely in hotel industry. This has paved the way for the creation of a new enterprise in the past few decades, namely hotel chains. In the wake of the tourism boom in Iran, specially after the lifting of sanctions, Iran hotel chains have prospered and continued to expand through the opening of new branches all around the country. There are three main hotel chains in Iran. These include Homa Hotel Group, Parsian International Hotels Co. and Laleh International Hotel Group. Homa Hotel Group is a chain of five-star hotels in Iran previously under co-management of private ownership and Iranian National Airlines which was nationalized after Iranian revolution and is now under the auspices of Iran Social Security Organization. Homa Hotels add up to 1000 rooms scattered in five luxury hotels around Iran. There were initially four hotels built in Tehran, Shiraz, Bandar Abbas and Mashhad. Due to the large number of tourists in Mashhad, a second hotel was constructed to provide the guests with optimum level of service. Guests who lodge in Homa Hotels know that they are in good hands, since the management of Homa Hotels have more than 50 years of experience under their belts and more than 800 people who work under their astute supervision are true hospitality experts providing service worthy of their country's global fame. No matter how you plan your trip, whether you are there for a short business trip or a long soul-reviving vacation, you can rest assured that your stay in Homa Hotels will be one of the highlights of your trip.
Homa Hotel Tehran
Known by the name
Arya-Sheraton Hotel
prior to 1979 Islamic revolution, Tehran Homa Hotel is a genuine work of modern architecture. Designed by the American architect Welton Becket, Homa Hotel has been the first choice of generations of visitors to Tehran. The prime location of Homa Hotel in Tehran is one of its many assets in the competitive arena of hotels in the capital. Located in Valiasr Street which is the longest street in the Middle East, near Vanak Sqaure Hotel Homa allows easy access to one of the biggest public parks in Tehran and one of its major landmarks, Tabiat Bridge. Moreover, the hotel is just a short walk away from many shopping centers and luxury boutiques of Vanak Street. Equipped with 144 rooms, 28 junior suites and nine royal suites in its massive fifteen-floor building, Hotel Homa in Tehran provides elite service with many different prices for every taste and budget. Its topnotch amenities include a modern gym, an indoor pool fashioned with a superb buffet and audio system, tennis court, sauna and massage parlor. The classy restaurant on the top floor of the hotel offers a wide array of culinary choices (international and local) as well as a breathtaking view of the formidable mountain ranges of Alborz. The management was also wily enough to add a shopping center to the complex for those who don't stomach big crowds and busy shopping malls in the city. Taxi service is available 24hr to transfer the guests from Homa Hotel to any location in Tehran and other cities in Iran using modern cars equipped with taximeter, air conditioning, comfortable seats and English-speaking drivers who know the city like the back of their hands! Whether you intend to travel to Tehran for a short business trip or want a true experience of a Middle-East metropolis, just pack your bags and book a room in Homa Hotel in Tehran via the internet or telephone and have a sweet memorable sojourn in the luxury of Homa International Hotel.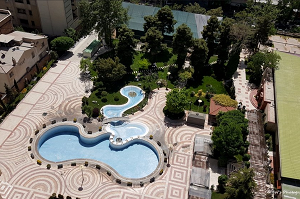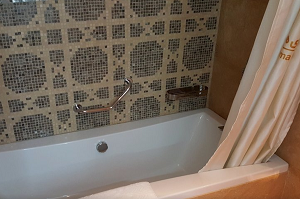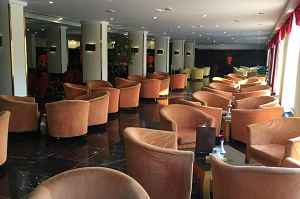 Homa Hotel Mashhad
Mashhad is the
second largest city in Iran
after Tehran. It is also globally significant as the resting place of one of Shia Imams and thus considered one of the holiest cities for Twelver Shia Muslims. The golden shrine of Imam Ridha and its adjacent sacred ground is the city's landmark. Each year more than 15 million pilgrims come to Mashhad to observe the religious rites and if we add a couple of millions who visit Mashhad for reasons other than pilgrimage (mountaineers, businessmen…) the number reaches the staggering 20 million. To accommodate such an immense number of travelers, the city offers a plethora of hotels, hostels and guest houses. Homa Hotel in Mashhad (Homa Hotel 1), with more than 40 years of proud service, has been one of the favorite places for generations of travelers to Mashhad, especially those for whom quality lodging is of utmost importance. Homa 1 in Mashhad is located near subway and speed bus stations and it is a 10-minute drive from the big flashy shopping centers of Mashhad. Two fancy restaurants of Homa Hotel 1 in Mashhad present their guests with delicious local and international cuisine in a warm and luxury atmosphere. Given the popularity of the city especially during the high season, Homa Hotels opened a second even more luxurious hotel in Mashhad which is known as Homa Hotel 2. This amazing five-star hotel is located in Khayyam Street and is fashioned with all amenities typical of a luxury hotel. Nestled in a district far from the mad rush of the city center and surrounded by a captivating garden, Homa 2 is the ideal residence for relaxation after a fulfilling day in Mashhad. The courteous and experienced staff of Homa 2 are always alert and ready to serve their guests in 207 sumptuous rooms and royal suites of the grand five-floor building. As for dining facilities, the hotel boasts a spacious chic restaurants with the capacity of 500 people and an elegant coffee shop with 24hr service. To match the opulence of its rooms and restaurant, the exquisite fitness center, sauna and pool in Homa 2 hotel will help you refresh and will prepare you for another happy day in Mashhad.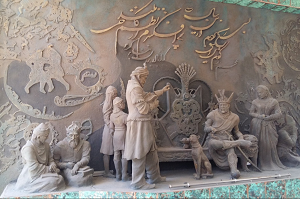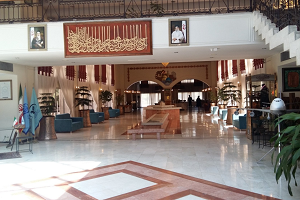 Homa Hotel Shiraz
Homa Hotel in Shiraz is
one of the oldest five-star hotels in Iran
. 212 rooms and 22 suites of this eight-floor fancy hotel is furnished with modern amenities such as Wi-Fi, LCD TVs with satellite receivers and digital safes. You will be all cozy in your king-sized beds and velvety pillows while watching a late-night film on the big LCD screen of your room. Shiraz is well-known as the city of gardens and the rooms in Homa Hotels present a fascinating view of Shiraz with its surrounding mountains and amazing gardens. Another unique aspect of Homa Hotel is its great open-air restaurant and spacious coffeeshop that provides service 24h a day. In addition to the open-air restaurant which is understandably out of service in cold seasons, there is a large luxurious restaurant on the ground floor serving topnotch local and international dishes. The professional management and friendly staff of Homa Hotel have thought of everything and that includes the construction of a serene place for their guests' relaxation. Whether you want to float in the tranquility of an indoor pool or shed the fatigue out of your bones in a fragrant sauna, you are right at home in Homa Hotel. Homa hotel in Shiraz provides rooms and both junior and royal suites in a price range of 80-180 USD. Homa Hotel will add another flavor to the already magnificent experience of the wondrous city of Shiraz.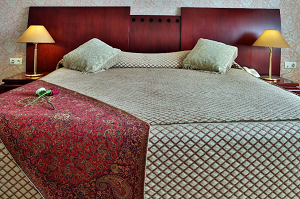 Homa Hotel Bandar Abbas
Looking for a
pristine beach with soft sands
open to the wonders of the Persian Gulf? Are you an ocean enthusiast aching for a visual taste of vast coral reefs and being immersed in the infinite splendor of the ocean? How about getting a glimpse of a Great White in its natural habitat? There is a single answer for all above: Bandar Abbas. This magical port city was known by the name Gamrun when the Portuguese conquered it in 1514 and was later called Bandar Abbas after the Persian king Shah Abbas. For centuries, the city has been the meeting place of merchants and explorers from all over the globe and it has maintained its status as the major industrial port of Iran. Businessmen often come to Bandar Abbas to watch over their cargo and sign contracts in the hugely profitable Iranian oil industry. Luxury accommodation is indispensable for satisfying such eminent visitors and Bandar Abbas boasts one of the finest branches of Homa Hotels for such a Herculean task. Homa Hotel of Bandar Abbas is the best 5-star hotel in the city. 187 rooms and wonderful suites of Homa Hotel render a fascinating view of the Persian Gulf with its magical sunset and pacific waters. But Homa Hotel isn't all about great view. It allows easy access to the dreamy islands of the Persian Gulf, Qeshm and Hormoz. As well as typical luxury facilities such as outdoor pool, sauna, jacuzzi, tennis court and gym, you can treat yourself to a refreshing icy beverage while relaxing in the shadows of colossal palm trees in Homa Hotel's expansive outdoor space. A seaside vacation isn't complete without trying the local sea food and the head chef of Hotel Homa will fulfil your longing for the local cuisine by serving the best local and international dishes in the city.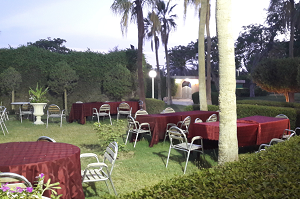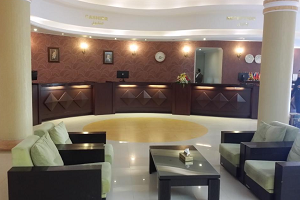 More:
- Homa Hotels in Iran Payment Details
- Homa Hotel in Tehran Reservation
- Homa Hotel in Shiraz Reservation
- Homa Hotel in Bandar Abbas Reservation
- Homa Hotel 1 in Mashhad Reservation
- Homa Hotel 2 in Mashhad Reservation
- Our Rates Are Too High for Your Budget? Book a Budget Hotel in Tehran